I write about food a lot on this site, but with good reason. I firmly believe that it's the most important aspect of the travel experience, forming some of our strongest memories through taste and smell. It's also the fastest way to learn about a new culture and what the people value. More than anything else though, it's just a lot of fun. There's nothing better than snacking your way through a foreign market, or tentatively ordering a meal, not quite sure what you've gotten yourself into. It can be adventurous, sometimes disastrous but almost always rewarding. I've been traveling a lot this year, so I thought I'd take a moment to pause and look back at the first half of 2016 and share not only some of my favorite food finds so far, but ultimately also my favorite travel experiences as well. I'll revisit this list at the end of the year, but for now here are my favorite foods I've discovered traveling in 2016.
Reindeer Stew – Finland
Like most national cuisines, the unique history of Finland still in large part defines traditional food culture. Centuries of intensely cold winters and remote locations means that meats, hearty stews and anything preserved were the go-to staples in Finland. I experienced this almost immediately when I sat down to my first lunch in Rovaniemi, the capital of Finnish Lapland. Fish stews and plates of reindeer served with mashed potatoes and lingonberry jam were the popular choices. I didn't know it at the time, but on that table were some of the most iconic plates in traditional Finnish cuisine. They're also flavors I became very familiar with, at least in the northern part of the country, finding variations of reindeer filet and stews at almost every meal.
Semla – Sweden
If you're a regular reader of the site, then you know that I have a robust sweet tooth. Dessert is my favorite course of any meal, but I'm also easily won over by pastries, donuts and anything else that will satisfy my fierce sweet tooth. I knew that Swedes feel the same way, which is why I was especially excited to discover some new desserts when I was in Stockholm earlier this year. Visiting a neighborhood bakery, I discovered the semla. This small bun is flavored with cardamom and filled with almond paste and whipped cream and is one of the most popular, and traditional, pastries in Sweden. They started as a tradition the day before the start of Lent, but have quickly turned into a year-round delicacy.
Boudin – Louisiana
Louisiana is one of America's great food-obsessed states, and locals take their regional favorites very seriously. In Southwest Louisiana the undisputed foodie king is boudin, as I quickly learned while visiting Lake Charles. To say that boudin is a type of sausage is wrong, although when you first see it that's exactly what it looks like. To really understand boudin, we have to go back to those Acadians who originally settled in Southwestern Louisiana. Who we now call Cajuns, these French-speaking settlers were forced out of Canada, but took with them their proud French culture and traditions, including boudin. Boudin in Louisiana is different though from versions you'll find in other parts of the world. At its simplest, boudin is a combination of cooked rice, pork, onions, green peppers and seasonings. The mixture is pulverized in a meat grinder before being stuffed into sausage casings. It is then steamed for on-the-spot eating. But those are just the basics, boudin changes in taste and flavor from cook to cook, no two are exactly the same and are based on recipes that have been handed down through the generations. That's why it's so much fun to drive around Southwest Louisiana sampling different versions, to experience new tastes and flavors in what is this area's go-to food.
Chengdu Hot Pot – China
Chengdu is known for its spice, but it's also famous for a very particular way of cooking – the hot pot. I like to think of the Chinese hot pot as a type of fondue. There are specific hot pot restaurants, and each table in them is equipped with inlaid pots and cookers, just like at fondue restaurants I've been to here in the States. I was led through this process by new friends I made, eager to show me the proper way to enjoy this iconic dinner. The hot pot process though is fairly simple. Diners select the meats and vegetables they want to cook in the pots along with the type of stock. In Chengdu, this means a broth that is literally teeming with those famous red Sichuan peppers. It was an easy process to learn, dropping the meat into the simmering broth, waiting for it to cook, removing it and lightly dipping it into oil to remove some of the spicy heat before eating it. It was a fun experience but a spicy one, more than once tears welled up in my eyes but I loved the dinner. Hot pot is about the great food, but it's also about the camaraderie, the conversation and being together with friends. Being in that restaurant, clearly a local and not a tourist favorite, I felt like I had been let into a secret, another piece of the puzzle in understanding the city.
Afternoon snack in Hong Kong
While Hong Kong may seem like a city that's in a constant state of reinvention, there are still some more old-fashioned establishments hidden around town, especially the classic Hong Kong coffee shop. These small diners have been the center of local neighborhood life for decades and while they are slowly disappearing, there are still some where you can go and enjoy an afternoon pick me up. Joined by a local tour guide, we ordered a pretty typical snack selection and one that I still think about now, months later. Sweet milk tea, made with condensed milk, fresh egg tarts, a BBQ pork bun and Hong Kong Toast, a delicious slice of toasted bread lathered with peanut butter and finished off with condensed milk. It sounds odd, but it was delicious in a way that only homey food can manage. And just like a traditional Hong Kong coffee shop experience, friends of my tour guide quickly joined us, an unexpected but welcome surprise. That's the true essence of these cafes and why they've meant so much to so many people over the decades, for the friendships made and sense of community that can only be created over tea and snacks.
Gaudidaun – Louisiana
A third-generation cook, Jeff Benoit is best known for his boudin and cracklins, but it's another item on the menu at the small B&O Kitchen and Grocery in Sulphur, Louisiana that's perhaps the most unique. Like most great dishes it started by accident, but almost immediately the Gaudidaun sandwich/burger became one of the most popular items on the menu. Made with pulled pork Tasso or brisket and a smashed boudin ball that is then dressed like a normal hamburger, this impressive bite may seem odd at first, but it's the perfection combination of everything I love about food in Southwest Louisiana.
Full Irish breakfast
My favorite meal is breakfast and there are few things I enjoy more than morning time meals either in the UK or in Ireland. The traditional full Irish Breakfast is naturally a little different from its British cousin though, and during my trip to Ireland I became well acquainted with it almost every day. This large and hearty style of breakfast has very rustic roots, originally meant to fortify laborers for a long day of work. Although most of us aren't farmers today, we still enjoy the large and complete meal that only a traditional Irish Breakfast can provide. While I did notice some variations on it and definitely heard some varying opinions, at its heart the breakfast should include: eggs, beans, meats like bacon or sausages, white and black puddings, potatoes, vegetables (usually tomatoes), mushrooms and Irish soda or brown bread. These are the core ingredients but other items may be added or omitted based on your family or where you live. Regardless, it's delicious and definitely filling, usually allowing me to skip lunch entirely.
Deep Fried Elderflowers – Austria
The Wachau Valley is one of the most famous wine regions in the world and along with great wine regions comes amazing food to match. I discovered the foodie side to the Wachau while exploring it one long weekend, an effort to go slow and savor the flavors of the country, instead of racing through to see and do as much as possible. Among the many tasty dishes I enjoyed was this slightly unusual dessert. Long considered a home remedy to give people more pep in their step, the flowers are battered, deep-friend and served with a berry compote. I'm not sure I loved them per se, but was happy to have had a chance to try this unusual dessert.
Knipp – Germany
Germany's regions are famous for their own special meals and dishes, unique to individual cities and towns and are an important aspect of learning about the culture when traveling in Germany. Trying these new-to-me dishes is something I always enjoy doing in Germany, and while in Bremen that meant ordering up a plate of knipp. Like most local delicacies, knipp has very humble beginnings, a way to use leftover meats from other meals. Over time, this concoction made of an assortment of meats, oats, seasonings and other bits has turned into a wintertime tradition in Bremen, usually served with applesauce, potatoes, pickles and of course bread.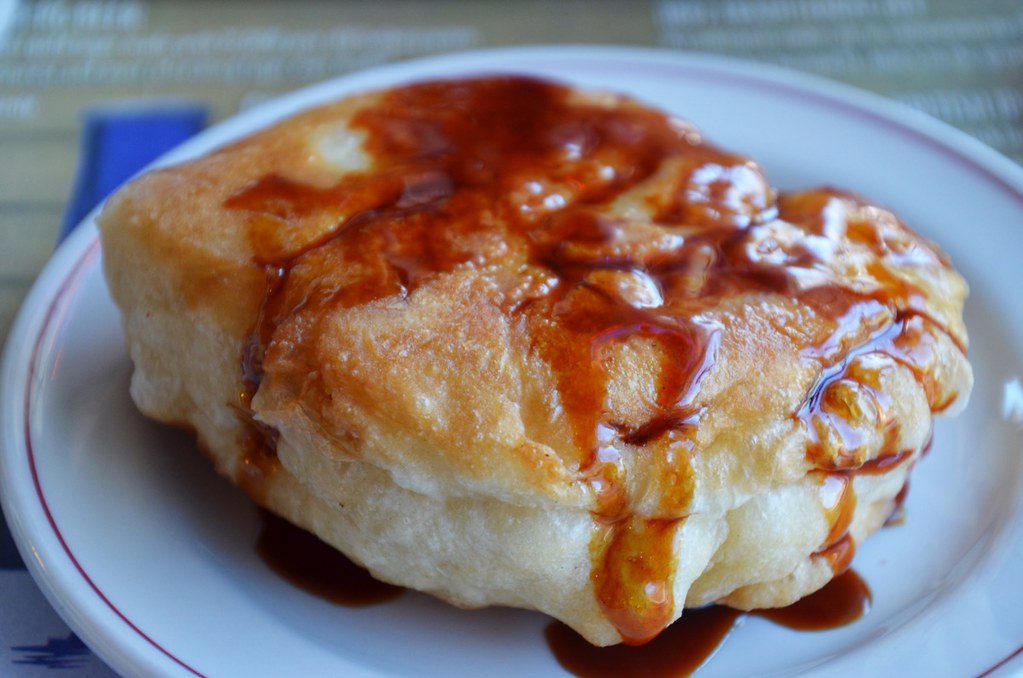 Toutons – Newfoundland and Labrador
Never one to shy away from fried bread in any form, I was excited to learn more about the local version on a recent trip to Newfoundland and Labrador in Canada. Like all great traditional comfort foods, toutons are simple but delicious. Bread is pan fried, served with butter along with thick molasses that is then drizzled over the bread. When served fresh and hot with a generous helping of molasses, there's nothing better.
What's been your favorite food discovery so far this year?