Certain airlines are just better than others. It's a fact and I can give dozens of examples comparing and contrasting a variety of airline experiences around the world. That means, as a traveler, there are certain airlines I just enjoy flying more than others and now after several flights with them, I can without a doubt say that Turkish Airlines is near the top of that list. Last year I flew them from Washington to Mt. Kilimanjaro Airport in Tanzania and back, all in business class and each flight experience truly exceptional. More recently I once again had the great opportunity to patronize their Business Class service, this time flying round-trip from Washington, DC to Bishkek, Kyrgyzstan. Today, rather than just share the normal aspects of the flights, I want to do something a little different. Along the way I kept a running list of all the ways in which my experience flying Business Class on Turkish Airlines was better than most others I've flown, unique actions on their part that made my journey relaxing, productive and, yes, even fun. When assembled, these are a few ways in which this world-class airline honestly does set itself apart from most of its competitors, especially if you're flying to Europe or points well beyond.
Candlelit Dinners
I'm not alone in my belief that Turkish Airlines features some of the best inflight meals offered from any airline; they're routinely ranked near the top for customer satisfaction. What I love most though about the dining experience in their Business Class section is that it's just that, an experience. It all starts with the dedicated inflight chef. Yes, that's right, there's an inflight chef there ready to make your dining experience extraordinary. It's all about the small touches with Turkish Airlines though, which is why meal service begins with individual flickering tea lights, all LED powered and meant to provide an intimate candlelit dining experience at 38,000 feet. Who else does that? It's an amazing touch, albeit small, that helps create a more relaxed and civilized meal service. Naturally though it's all about the food, and not once have I ever been disappointed. The menu features plenty of options, even for picky eaters like me, and once selected, meals are presented by the chef on gleaming white china accompanied by crisp linens and silverware. If it weren't for the fact I was eating in my slippers, I could easily have been at any world-class restaurant. This commitment to great cuisine is pervasive though. It's in every lounge and on every flight, even the shorter ones. I don't normally consider food when booking flights, but when it comes to Turkish Airlines it's an important perk.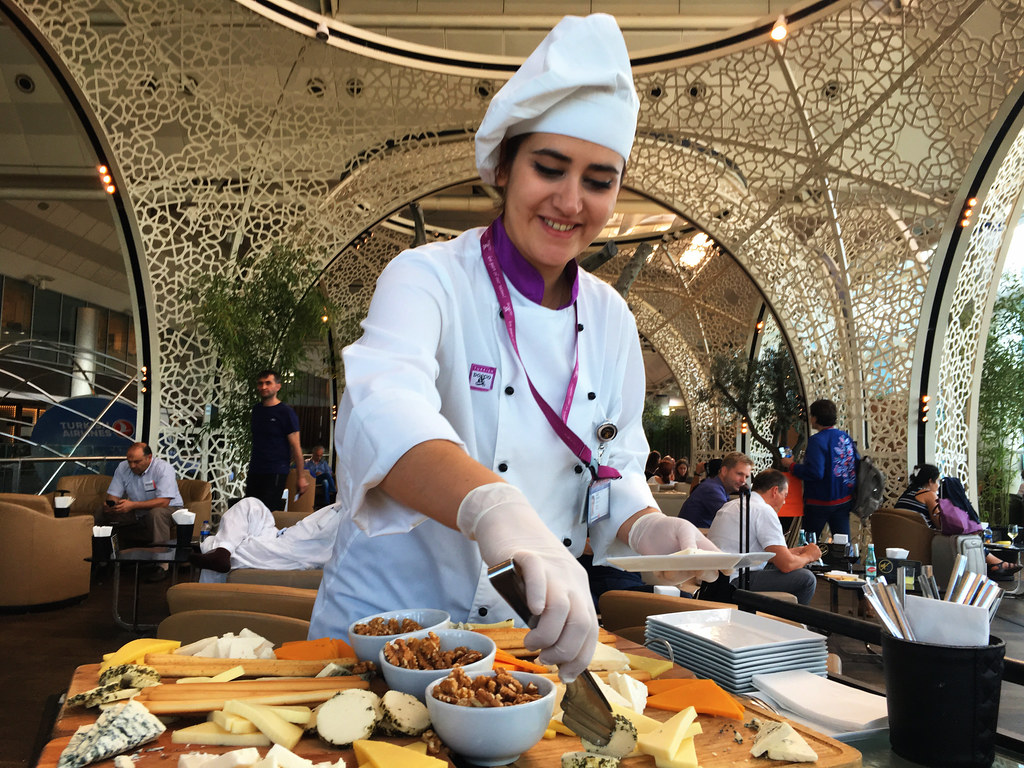 Lounges
Of course one of the best aspects of flying Business Class with Turkish Airlines is for access to their amazing lounges. Their newly opened lounge in Washington Dulles Airport is a welcome addition and from my experiences in every Business Class lounge at the airport, it's certainly one of the best. What Turkish Airlines does perhaps best is to imbue everything they do with the heritage and culture of Turkey, and that's certainly present in Dulles. The food options include those Turkish favorites we all love and the design aesthetic recalls distant lands, far from the Beltway. The real star in the world of Turkish lounges though is of course their over-the-top lounge in Istanbul Atatürk Airport. The main lounge in Istanbul is more than 65,000 square feet across multiple levels and can accommodate thousands of people every day. That's a far cry from the sometimes claustrophobic lounges I've experienced in all corners of the world. The lounge also has everything anyone could ever possibly need to while away the hours before your flight including: billiard hall, library, cinema, media walls, miniature model car and plane setups, virtual golf, private relaxation rooms, showers, on-call masseurs and enough food to feed a small city. Also spread throughout the lounge are any number of stations, both large and small, with dedicated chefs all creating some amazing dishes and snacks. Traditional Turkish meals, nibbles and desserts are all on hand as is a great selection of international fare. A personal favorite was the baklava station, which, along with a cup of strong Turkish coffee, gave me more than enough energy to get through my layover. Walking through the light and airy upstairs of the lounge I was suddenly met with a green and bright cafe, reminiscent of those fantastic tea gardens found throughout Istanbul. I couldn't believe that I was still in the middle of an airport, and sitting down to enjoy a light snack transported me away from the confines of the industrial building to a much more calm and serene space. When is the last time you felt that way inside an airport?
Turkish Traditions Inflight
Nearly all national carriers try to infuse aspects of their cultures and traditions into the flight experience, but Turkish Airlines does so perhaps better than anyone else. At every level, from the lounges full of Turkish delicacies, to the little touches onboard during flight, flying with Turkish is a crash course into the culture of the country. In Business Class, even the slippers and beds take on new meaning. Sitting down into my spacious seat, I picked up the small bag in front of me and read the tag. Inside were a pair of slippers, the same as most other airlines offer their Business Class guests, but written on that tag was something different. It said that it is customary in Turkish homes to offer guests slippers after removing their shoes, and so we were invited to do the same. That simple message transformed something fairly mundane, putting on inflight slippers, into an act of hospitality. They didn't have to do that, they didn't have to offer a small note of explanation, but they did and it made all the difference. That same spirit of hospitality carries on to when it's time to take advantage of their inflight sleep rituals. Available to Turkish Airlines Business Class passengers is the Bohça bundle, which draws from Turkish culture and includes a sleeping pad, quilt, sleeping pillow, waist pillow and slippers. It was an entire sleep experience and is something many times I see reserved for First Class guests only. When I was ready to sleep, the flight attendant assembled the bed for me, fitting the sleeping pad around my seat and in less than a minute my chair had transformed into a comfortable bed. I'm tall, so the ability to sleep comfortably on a flight is hugely important to me, and also hard to achieve. But it was late, I was tired and this near-perfect sleep setup allowed me to get several hours of rest, arriving into Istanbul a little groggy maybe, but not my normal exhausted self.
Business Class Extras
A few times in this post I've mentioned small touches that meant a lot to me as a passenger. They may sound silly, but for many of us these tiny embellishments all come together to create a truly remarkable travel experience. Sadly, even when flying Business Class, sometimes my experiences are nothing special. Far too many airlines regard themselves only as simple conveyances from one place to the next. But there exist in the world a few airlines that go above and beyond, that work diligently to create experiences we won't forget and Turkish Airlines is one of those few. Throughout my day or so of travel over to Bishkek, I kept a running list of those touches in an effort to try to share why they matter. The slippers and candlelit meals are on that list, but so are the special Business Class buses they use upon landing. Touching down in Istanbul, I noticed we were at a remote site and I could see the buses lined up ready to ferry the passengers to the main terminal. After a long flight, the last thing I wanted to do is wait for those buses to fill up with a hundred or so of my fellow passengers and, as it turns out, Turkish Airlines understands that. They have a special, smaller bus on the ready just for Business Class passengers, which means my wait time was a lot less but, more importantly, I felt special. I felt important and not a number – I was a valued customer and that means something. Add to that a million other details from the red carpet at the Business Class check-in desk to the aromatherapy in the plane's washrooms. Everything has been well thought out in advance and, when looked at as a whole, creates one of the best and most memorable flight experiences in the world.