Traveling along the Danube River with Viking River Cruises, I experienced parts of Europe not only beautiful, but festive as the Christmas holiday approached. While the weather can at times be iffy, there's nothing like seeing Europe and Germany in particular decorated for the holiday season. One of the many highlights of the journey though was my time spent in Regensburg, Germany.
Like many other towns in this part of the world, Regensburg seems impossibly old, at least from my point of view – people have been living along the banks of the rivers here since well before the Romans. It wasn't until the Medieval age though and the construction of a stone bridge linking Europe with the east that the town really came into its own. That was 1,000 years ago and the bridge is still there, ushering in visitors and locals alike.
It was a rare day, a sunny morning with blue skies overhead; an abnormality for what is usually a gloomy December. It was the perfect day to walk around town though, exploring and learning about a new German city. The first thing I noticed were the brightly colored buildings everywhere, catching the sun and lighting up in their own special way. It felt more like the Netherlands, the influence from the nation of traders and businessmen had clearly made its way to Regensburg over the ages.
It was also Christmas, and the city was ready for the season. Lights and garlands hung on every street and in addition to several, smaller neighborhood markets, a large central Christmas market was in the middle of town. One thing that I had noticed as we sailed down the Danube was that while the markets had similar elements from city to city, they each had their own very unique qualities; especially with their food offerings.
Every German city prides themselves on their sausages, but in Regensburg they really are something special. When that old stone bridge I mentioned opened and the influx of people started to trickle into town, small businesses erupted around it, including an old sausage shop that has been serving delicious Regensburg sausages for as long as the bridge itself has been around. The kitchen is still in operation today and the only item on the menu are those famous sausages, smaller than you might expect and served three to a bun along with the shop's special sweet mustard. There's nothing better than chowing down on these hot, delicious bites on a cold winter's day, just like folks have been doing for an astonishing 900 years.
The town is about much more than just sausages of course, it's a major university town and while the students bring with them a certain energy, Regensburg doesn't feel overrun with them. No, instead of obnoxious co-eds everywhere, you see the youth influence in the number of great restaurants and shops almost everywhere, catering to all types of people. After exploring the old part of town, I grabbed a couple of the small sausage rolls and went for a walk. Down quiet little alleyways I discovered small shops and along the main thoroughfares I navigated the hustle and bustle of holiday shoppers looking to buy everything from high-end electronics to dried candies to share with friends and family.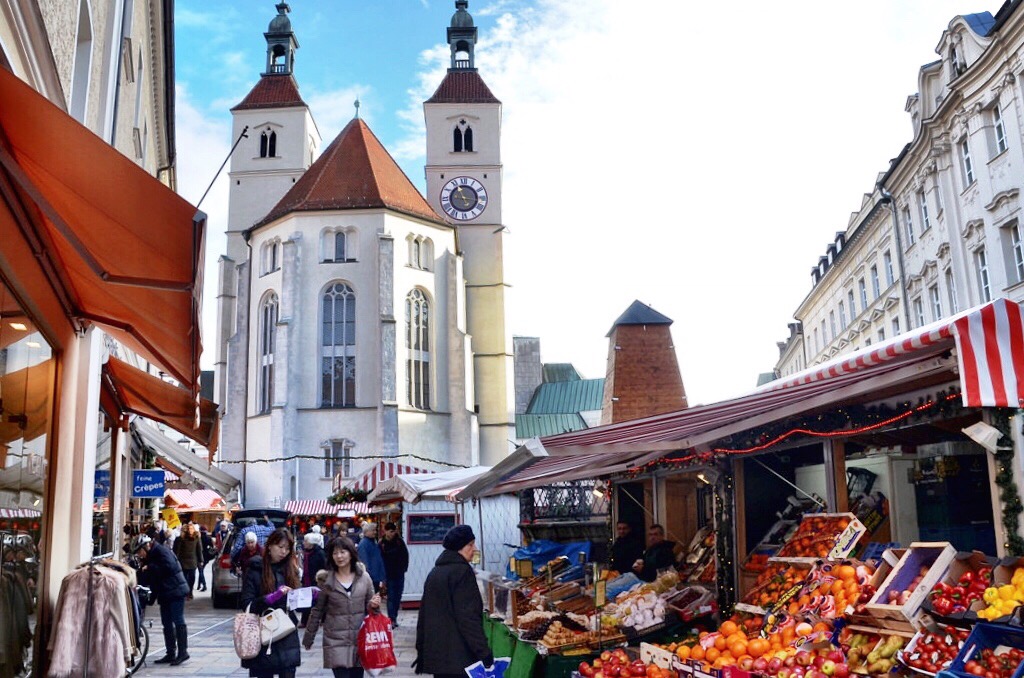 The Christmas market was in the perfect location, and I found myself returning again and again, trying out new foods and dishes each time. Giant pretzels either plain or cooked with cheese and ham on top, the sausages of course and even a regional variety of Lebkuchen or gingerbread that I particularly loved. It was a happy, friendly place and just being there was enough to put anyone in the holiday spirit.
Regensburg is usually listed as one of the top tourist destinations in Germany, in large part thanks to that mighty bridge of theirs. There's a lot more to this riverine community though, there's a vibrant spirit as bright as their houses and a friendliness one doesn't always find. No matter what you do though, be sure to stop by the old sausage stand along the river and see if you think the 900-year old recipe still holds up today. Just like the city they represent, I think they are absolutely worth the visit.
Have you been to Regensburg? What did you think?