Kangaroo Island, off the coast of South Australia, is one of the most popular tourist spots in Australia. The reason has a little bit to do with the beautiful coastline and landscapes found almost everywhere, but the real reason is the wildlife. Known as a natural zoo without fences, Kangaroo Island is one of the best places to see Australian wildlife in a fairly small area. Being a huge lover of conservation and wildlife experiences, Kangaroo Island was near the top of my Australian bucket list and after spending a couple of days there, I was not disappointed with some of the best animal encounters I have had anywhere in the world.
I only had two days there so I enlisted the help of the luxury travel experts on Kangaroo Island, Exceptional Kangaroo Island, the most comfortable way to explore the fabled reserve. Our guide was none other than the owner of the company, Craig, and luckily for us he knew all the secret spots to take us to get those experiences we were after.
Kangaroos
We saw kangaroos several times but the most memorable encounter happened within an hour of our arrival on island. Craig knew of a nearby farm that had fallen into disuse and had turned into a popular hangout for the local kangaroo population. However, he knows the owners so it was with padlock key in hand that we gained entry to what turned out to be a great sanctuary for Australia's most famous resident. I couldn't help but feel like we had wandered onto the set of Jurassic Park; the overgrown bushes and trees were beautiful and there in the middle of the fields were kangaroos; lots of them. It was early morning so they were still somewhat active, foraging for food, hopping about and preparing for a long nap while the looming sun threatened another warm day. They were beautiful in every way and the experience of seeing them as they were meant to be seen, in the wild and not in a zoo or reserve was simply amazing. I had seen kangaroos in the wild once before, but I only had a fleeting glimpse before they hopped off into the bush. On Kangaroo Island though I stood just a couple of feet from them, neither of us worried about the other.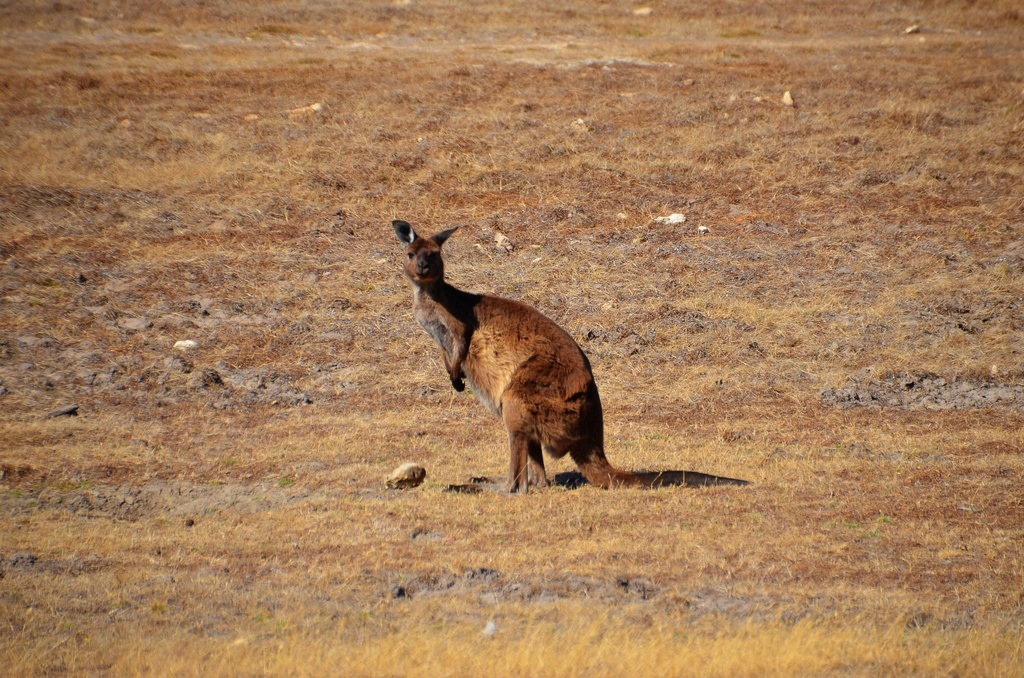 For an animal lover like myself this is the pinnacle of wildlife experiences and one that I will remember for a very long time.
Koalas
Before first seeing a real, live koala I had the same impression as you all do probably. Cute, fuzzy little bears who live in trees and try hard not to overdo their cuteness. I still remember the first time I saw one in a zoo. I thought I was looking at a stuffed representation of a koala until suddenly the model blinked. Then it curled up its massive claws and scowled at me a bit. That's when I realized that while the idea of koalas is a cute one, in practice they are impossibly boring and somewhat grumpy. But that doesn't mean I didn't want to see one in the wild, I did. They are hard to find though which is why not for the first time I was thankful to have Craig by my side.
Areas where I would have simply driven or walked by, Craig stopped, looked up and almost immediately spotted our prey. There at the top of the tree was a grey lump, a koala. Over the course of the two days we would find several more koalas, all up in the tops of trees, all not moving and all looking a little bit cranky. I love them though, they are the curmudgeons of the animal world and I find a quirky beauty in them.
Seals and Sea Lions
On a trip to the Galapagos a few years ago the naturalist on board drilled into my brain how to tell the difference between a seal and a sea lion; and if you confuse them you will incur the wrath of biologists everywhere. Simply put while they have many difference, the ears are a good indicator. Sea lions have earflaps and seals have earholes. But they are both cute and without a doubt amongst the most popular residents on Kangaroo Island.
Flinders Chase National Park is one of the most popular parks on Kangaroo Island thanks to the diversity and beauty of the landscapes found there. It's also a great place to find fur seals in various states of relaxation. Down on the rocks, not far from the rock formation known as Admirals Arch you will typically find scores of beautiful seals, diving into the water, playing or just basking in the sun. It's a dangerous area for them though; sharks prowl the waters waiting for their next meal to dive in.
For a more up close encounter with sea lions, head to the poorly named Seal Bay. This pristine beach is a protected conservation park and is one of the few areas where you can see the Australian sea lion up close. A boardwalk allows visitors the chance to observe the playful sea lions from afar, but there are also tour opportunities to walk along the beach with trained guides. Carefully instructed not to get too close to the sea lions, standing there on the quiet beach as hundreds of sea lions scampered about was yet another dream wildlife encounter for me. It was about that time that I realized I needed to find new terminology for my experiences on Kangaroo Island since every encounter was unlike any other found around the world.
If you're an animal lover like myself, then Kangaroo Island is one place that must be near the top of your bucket list. It is one of those all too rare times when the hype really does live up to the experience and if anything, surpasses it.